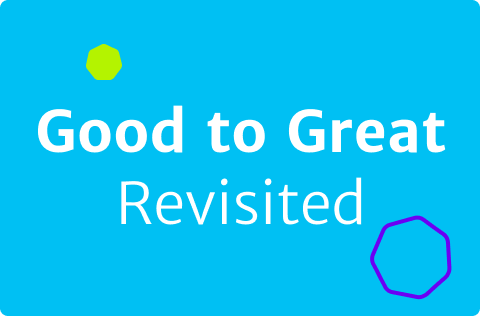 Level 5 Leadership – Good to Great Revisited
One of the surprising things that Jim Collins and team found when they were isolating what great companies had in common was leadership. Of course it wasn't having leadership that was surprising but the kind of leadership they had. In Collins' words, it was "level 5 leadership."
You can see from this diagram that no level of leadership is bad. What's wrong with an individual contributor? Or a competent manager? Nothing at all. Each level brings its own impact. However, what Collins discovered was that it was the "Level 5" leader that enabled companies and the people within them to achieve extraordinary results…results that lasted.
So what is "Level 5" leadership? It is, according to Collins, characterized by two things. Professional will and personal humility.
Far from the popular "charismatic" and "celebrity" leader (think Trump), the leaders of the truly great companies had an indomitable will to win, to achieve, to see their companies outperform the competition and to reach great heights while at the same time making it about the company and about others rather than themselves. All of the good to great companies were headed by men and women like this. They were passionately committed to company success without the slightest need to get any of the credit for themselves.
What about you? What drives you? Is it achievement so that people know who you are? Is it recognition? Or is it success for the sake of the whole and a contentment with knowing who you are without having to have others praise you?
Remember that Collins wrote Good to Great 20 years ago. Since then, studies have shown that, over the long haul, companies led by servant leaders, character based leaders, "level 5" leaders outperform the others by a factor of 5-to-1. And that's nothing to sneeze at.
Mike Baer was one of the early leaders in the modern Business as Mission (BAM) movement. He is the Chief Development Officer of EmployBridge, a $3.2 billion employment company based in the US. Mike is the Co-Founder of ThirdPath, a global company that helps Christians become entrepreneurs. He has written 3 books on BAM: Business as Mission, BAM for the Rest of US, and Gospel Entrepreneur. Today Mike and his wife reside in the mountains of North Carolina where they enjoy their 5 grandchildren.